Korean food has always been a hot favourite and has been gaining a lot of hype thanks to the recent Hallyu Wave and K-Pop craze. Of course, the usual kimchi, ramyun and Korean BBQ comes to mind. However, apart from those that you commonly see in Korean dramas, there is still a never-ending list of nice, delectable food you can have and should try in South Korea.

---
1. HOT-STONE BIBIMBAP (돌솥비빔밥)
For those of you who are unfamiliar, hot-stone bibimbap is rice served in a hot stone, to be mixed with a variety of fresh vegetables, red pepper paste, sesame oil, seaweed, eggs and well-marinated meat. You can find this in almost every corner of Korea, with each differing slightly. If you are looking for some recommendations, you can try Go Gung (고궁). They have a few branches, each located in popular sites in Korea like Myeong Dong and Insadong.
---
2. DAK GALBI (닭갈비)
Meaning stir-fried marinated chicken, it usually comes with sausages, cabbages, Korean rice cakes and potatoes. To get the full Korean experience, order some rice (bap, 밥)  towards the end when you are almost done and mix it in with whatever that is left in the pan.
Popular dak galbi chain, Yoogane (유가네), has an outlet in almost every bustling corner in Korea. You can easily find one that fits well into your itinerary. If you are one of the lucky few with a Yoogane outlet back home and want to taste something unique to Korea, you may want to check out Chucheonjip Dak Galbi Makguksu (춘천집닭갈비막국수) located near Shinchon (신천) station in Seoul, commonly frequented by students in the nearby universities.
---
3. BINDAETTEOK (빈대떡)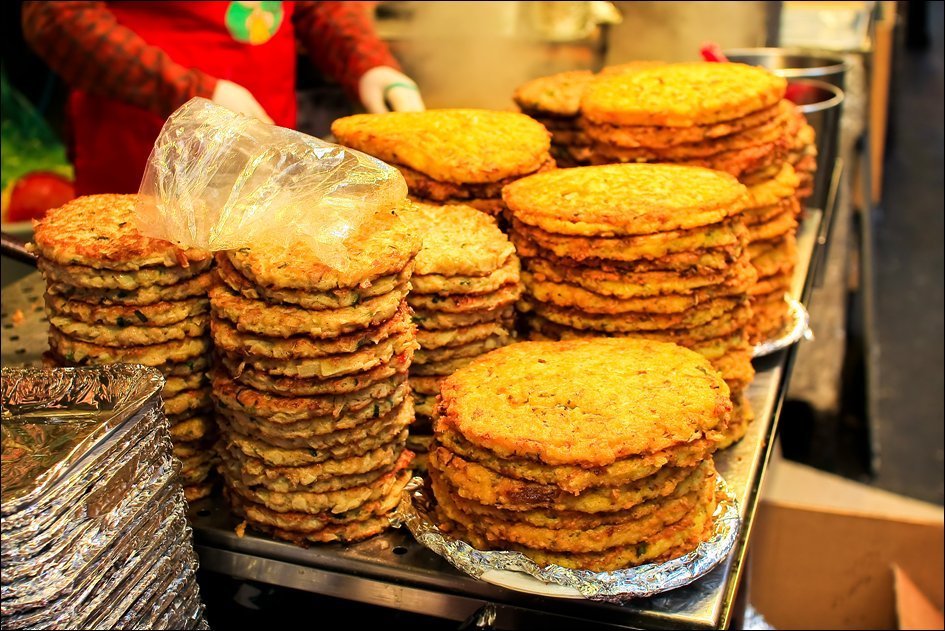 If you are a fan of crispy-crunchies, this cannot be missed. Head down to Gwangjang Market (광장시장), a traditional street market where hot, crispy mungbean pancakes, aside from a variety of local fare (e.g kimbap, kalguksu, jook), can be found.
---
4. SHIK-HYE (식혜)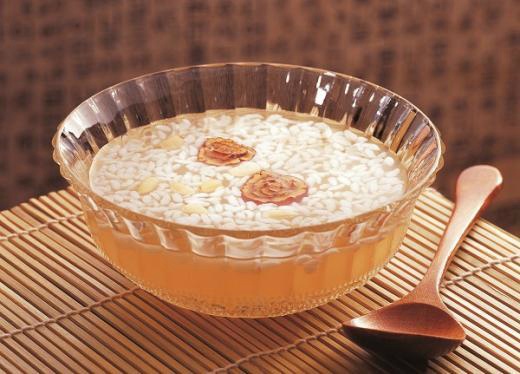 Traditional Korean rice punch, shik-hye, can also be found in Gwangjang Market. A cup of this will be ideal in summer. This refreshing drink is also commonly served in public bath houses, also known as jjimjilbang (찜질방), which we definitely recommend trying (while also cracking a hard boiled egg on your partner's head).
---
5. BANANA MILK (바나나 우유)
Banana milk never fails to come to mind when we are talking about drinks from Korea. Though the carton packed ones are now sold in korean marts outside of Korea, it simply tastes artificial different. If you are a dairy fan, don't forget to grab one at the convenience store. Daily.
---
6. DELI MANJOO
If you pass by any Deli Manjoo pushcarts at the metro stations in South Korea, be sure to stop at one and give it a try. The mini cakes filled with custard or red bean paste never disappoints.
---
7. JUMEOKBAP (주먹밥 )
Need to grab a quick bite on the go? Well, though the local fast-food chain, Lotteria, is quite decent, it may not be the only option you have. You can grab some jumeokbap – seaweed-coated rice balls with kimchi, tuna or meat wrapped inside. Most eateries that sell kimbap, the Korean equivalent of sushi, should have them. It is worth making time (and stomach space) for this quick bite on the go.
---
8. SEAFOOD AT NORYANGJIN FISH MARKET (노량진수산시장)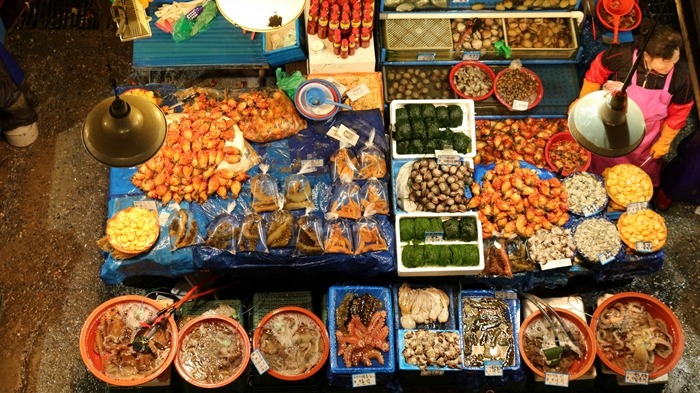 The Noryangjin Fish Market is a wholesale market for seafood, as the name suggests. A wide selection of fresh seafood can be found here. If you are a seafood lover, make sure to add this to your itinerary now.
If you love sashimi or are daring enough to try the live octopus challenge (Koreans have a thing for eating a whole live octopus raw), you can also try it here. The sellers at the fish market are usually more than happy to prepare one for you.
---
9. STREET FOOD
A variety of fried snacks, also known as tweegim (튀김), such as sweet potato (고구마 – goguma), squid (오징어 – ojingeo), dumplings (만두 – mandoo), kimbap (김밥), prawns(세우 – saewoo) and hard-boiled eggs (계란 – gyeran). It is a mix of guilt and satisfaction to have this together with some spicy Korean rice cakes (떡볶이 – ddeokbokki), fishcakes (오댕 – odaeng) and korean blood sausages (순대 – sundae) which are actually steamed pig intestine stuffed with glass noodles, blood and innards.
---
10.  GAMJATANG (감자탕)
This is a combination of potatoes, perilla leaves, onions and radish cooked in spicy pork spine broth. One thing to note is that most places serve this in relatively large portions, usually meant for eating in a group, so be sure to check before placing your orders if you are travelling alone.
---
11. JJIMDAK (찜닭)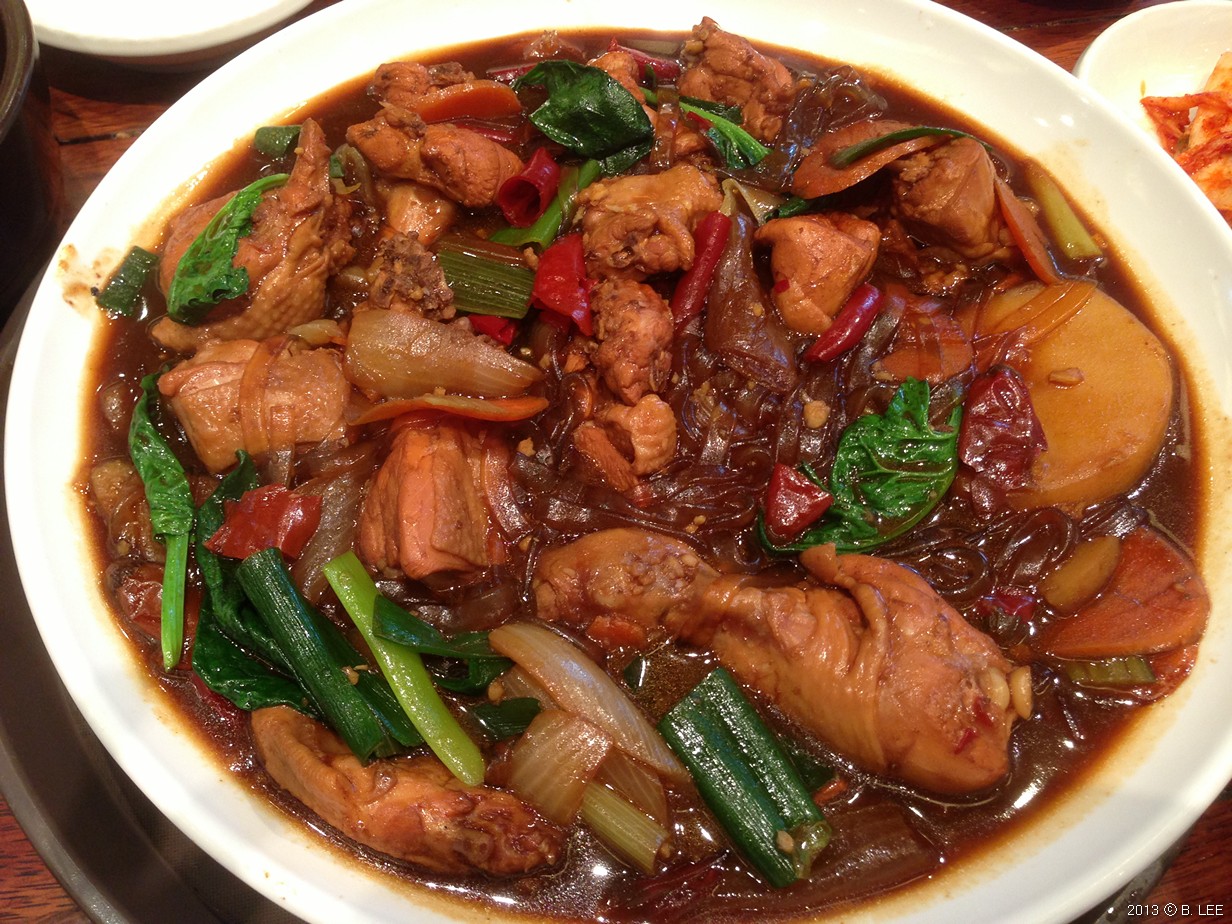 Another dish that may not be suitable for lone travelers due to its serving size. Jjimdak is a soy-based chicken stew simmered with glass noodles, potatoes, carrots, Korean rice cakes, onions, cabbage and sometimes seafood. Dried chilli is usually added, so do request for it to be excluded if you cant take spicy food well. Andong Jjimdak (안동찜닭) and Bongchu Jjimdak(봉추찜닭) are two chains that are popular amongst locals and tourists.
---
12. OX BONE SOUP (설렁탕)  
The soup is usually cloudy and white, as it is simmered over long hours extracting the essence from the bones. Like ginseng chicken soup, the ox bone soup is also thought to be very nutritious and beneficial for health. Imun Seolleongtang (이문설렁탕) has been in operation for more than a century, since 1902, and is definitely worth a try.
---
13. GINSENG CHICKEN SOUP (삼계탕)
As the name suggests, samgyetang is chicken soup cooked with ginseng roots. A small, full chicken stuffed with glutinous rice is usually served together with the soup in a bowl. The chicken is usually very tender, and the soup very flavourful. If you are looking for some authentic korean ginseng soup, you may want to try Tosokchon Samgyetang (토속촌 삼계탕).
---
14. KOREAN SHAVED ICE (팥빙수)
Another Korean food favourite, patbingsu (shaved ice), is definitely a must eat especially in summer. Fresh fruits, red beans and small bits of Korean rice cake topped with shaved ice and condensed milk is simply heavenly on a hot day. Be sure to check out Homilpat (호밀밭), Seolbing (설빙) or any cafés along your way to have a taste of this well-liked Korean dessert.
---
15. JOKBAL (족발)
Jokbal literally means pig's feet. The pig trotters are boiled for hours in a concoction of soy sauce, ginger, garlic and rice wine. It is popular even with the ladies, as it is believed to be very rich in collagen, which is beneficial to the skin and joints. Locals will usually head down to Jangchung-dong's Jokbal alley (장충동 족발 골복) when they are craving for some jokbal.
---
Have you tried all these Korean food? Which is your favourite? Stay tuned for a part 2 as we bring you deeper into the abyss of amazing Korean food you should try.